Our process is simple, personal and highly customizable. Because all our furniture is custom built, after you order the process is very important. Whether you pick one of our beautiful pre-designed Collections or you send us photos for us to reproduce, it all starts with communication with one of us. The personal touch is very important to us. We insure that your design wishes are executed to perfection. As your dream furniture is being made we send you pictures of the process periodically .
Selecting your furniture:
You may select one of our pre-designed Collections , or from our Gallery , or you can browse the web and find the pieces that you like, send us the pictures and/or links of the furniture and we will price it back to you in the wood and color of your choice along with an on time delivery date.
 
Regarding fabric in Costa Rica:
Stores in Costa Rica do not have a 1st quality selection or decent prices on what they do offer. We suggest that you purchase your fabric elsewhere and get it to us in Costa Rica. Now, this may seem difficult for you but we have simplified this. We have a shipping address in the Miami, Florida ( Doral ) area. Also we have partnered with a fabric store in the Miami area. Ultra Fab is a great supplier of interior and outdoor fabrics at good prices. If you will ask for Brenda and identify yourself as our customer they will deliver it to our address in Doral, Florida for shipping to us . Bear in mind that this store is close to our shipping address in Doral thereby saving you expensive freight charges from stores in distant cities.

http://www.OutDoorFabrics.com Is located in the Miami area and a great source for Sunbrella materials. Ask for Tracy, tell her you are our customer . She will give you our discount, ship your purchase to our freight forwarder in Doral whom will send the material on to us. You will pay OutDoorFabrics for your purchase. We will bill you back later for the freight and customs charges we paid for you.
Tracy Dykes
Operations Manager
tracy@outdoorfabrics.com
1-800-640-3539
Our shipping service, www.AeroPost.com , ships the items to Costa Rica, clears customs, pays the duty and delivers to us all in about six (6) days. We bill you back for the actual charges we incur for this service and respective taxes. We do recommend that you set up your own AeroPost account . More on all this later.
Regarding Leather: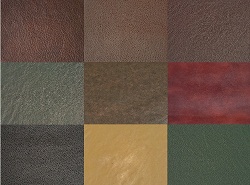 We offer Leather through our Partner Universal Leather. Please contact them for colors and availability.
Les Flippo
Phone: 336-882-4110
Email: les@universalleather.com
2325 East Kivett Dr.
High Point, NC 27261
www.universalleather.com

---
Mold

Disclaimer